Shimmer & Shine: Indian Couture Week 2022, Part 2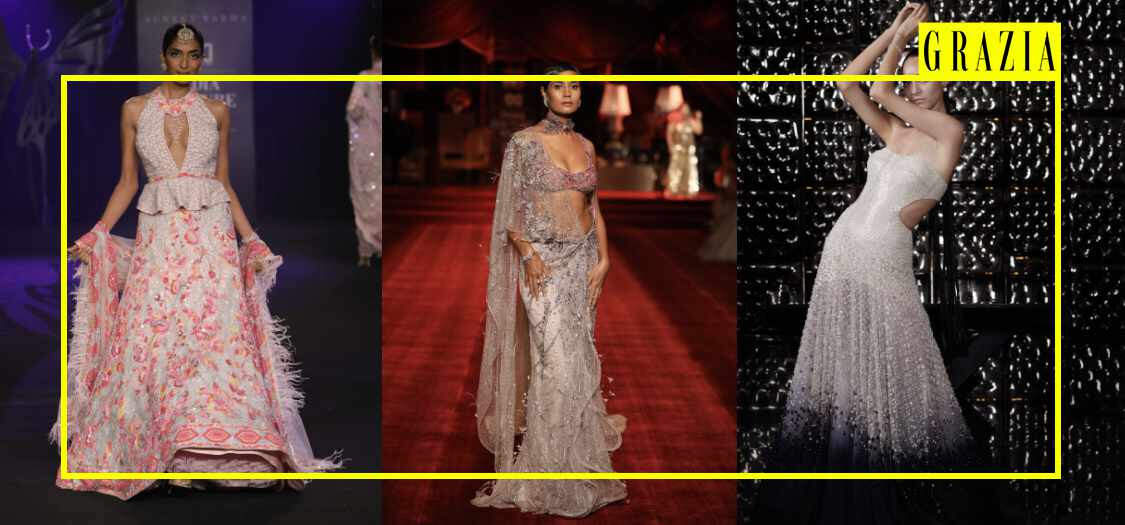 India Couture Week 2022 saw designers turn universal inspiration into high-octane bridal wear destined to turn heads.
Here's part two of everything that's happened on the overdressing trails.
Varun Bahl
"New Leaf" by Varun Bahl is inspired by the lush grandeur of the forest. The use of delicate embroidery on modern silhouettes and newer volumes was intended to give Indian tailoring an undeniable global appeal.


Elements of wilderness and exotic flora took on new life as the designer played with his classic patchwork embroidery to create an abundance of texture, with other touches like beads, gemstones and embroidered plant motifs. in 3D on sumptuous silks and velvets.




Anju Modi
Drawing inspiration from nuanced elements of architecture, poetry, mythology and literature, Anju Modi presented 'The Road Less Travelled'. The collection is about how taking the hardest path gives us an opportunity for growth and self-reflection.


Kaftans, lehengas and flowy pieces, as well as Nehru jackets and angrakhas for men, were designed in a palette of neutral tones, accented with metallic embroidery and bright floral clusters. Anju Modi's clean aesthetic suits the brides this range is aimed at.


Rohit Gandhi + Rahul Khanna
Rohit Gandhi + Rahul Khanna made their sewing debut with "Fibonacci", where dramatic fabrics met precise technique in patterns defined by Fibonacci's irrational numbers. The masterful application of cutouts for sculpted silhouettes softened with a sensual shimmer.
Crystal-laden dresses in rich jewel tones and blacks, along with menswear featuring the controlled use of tassels and fringe for movement, formed the core of the collection. In addition, opulent fabrics such as elvet, duchess satin and chiffon were embellished with tone-on-tone arabesques and floral embroidery.




Dolly J.
Dolly J. tapped into the collective appeal of music for her jazz-inspired "Meraki" collection. The soul and serenity of the genre captured the artistic musings of its creative mind.
The set for the show was reminiscent of a New York jazz club, with velvet curtains, cracked leather bar stools and a grand piano. Jazz singer Shreya Bhattacharya delighted audiences with a live rendition of much-loved retro jazz numbers. The sensory experience was further heightened with a signature Dolly J scent that evoked the heady notes of cocktails, honey and the woody notes of cigar boxes.


The designer explained, "As this is a couture collection, we wanted it to be opulent so we started with molten gold and iridescent silver tones for the lehengas and dresses of our brides. This then evolved into a variety of other metallic hues, including deep yellows, maroons, and metallic charcoals, among other striking jewel tones."




Sunet Varma
Suneet Varma's 'Sitara' was a modern, theatrical representation of the modern Indian woman who embraces the romance of traditional Indian tailoring. This straddling the realms of modern, whimsical and even wise while being beautiful and carefully crafted. The lehenga sets featured abstract geometric patterns scattered across a spectrum of reds, from deep burgundy to striking scarlets, as well as classic metallic hues, blush pink and baby blue.