Bill Schmick: Watch out for a stock market rebound | Columnists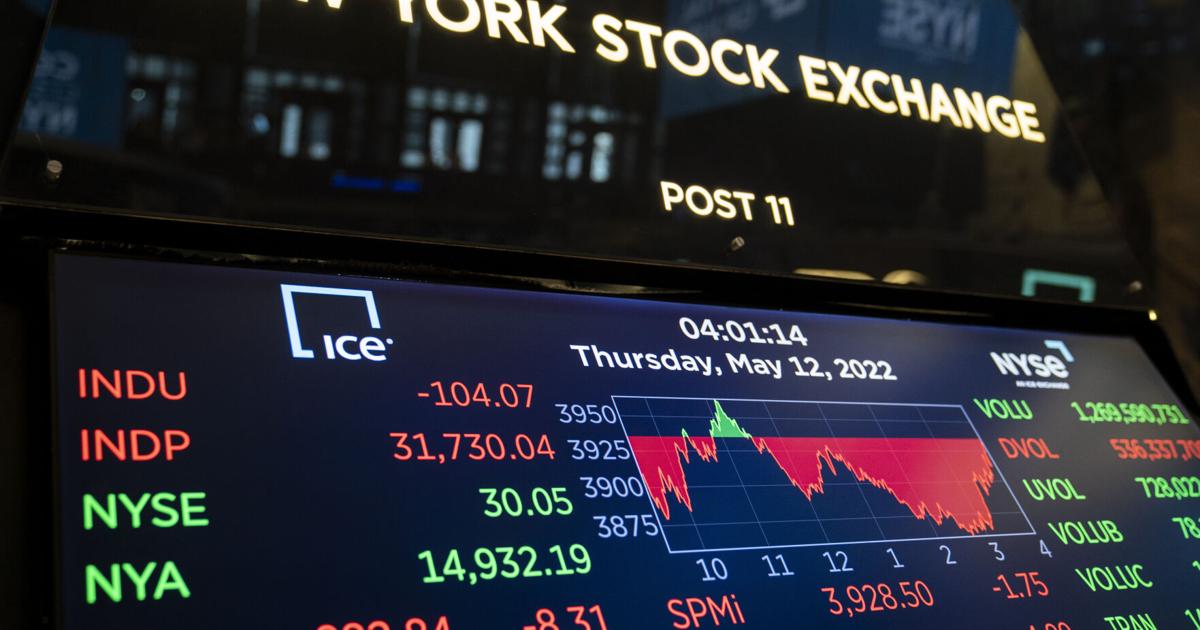 Bears lurk the halls of Wall Street. No one is questioning this, but reversals in downtrends can be mind-blowing. Look for one of these short relief rallies over the coming week.
Do I know this will happen? Of course not, but when we are as oversold as we are now, the odds are high. If we bounce into a relief rally, it would trace the first to the center of my "W" pattern. The rebound won't last long, maybe a few days or, at best, next week. And then again. For readers who may be hoping that at some point we will resume the bull markets of the past decade, drop that idea.
I fully expect another low that could match or break the S&P 500's year low of 3,877 hit this week. Readers were warned last week that the index could (and did) exceed my 4,000 target. There were several reasons for this bearish behavior.
Inflation figures were the main trigger. On Wednesday, the consumer price index came in hotter than expected at 8.3 percent. For the month, the index gained 0.6%. The data disappointed traders who were betting on a fresher set of numbers that could confirm inflation was peaking. But instead of driving the market up 5% or more, the opposite happened.
The Producer Price Index, which was released the next day, weakened a little with an increase of 11% year-on-year and 0.5% for the month. The lack of evidence of a "spike in inflation" dashed hopes that the Fed might be tempted to go further with its hawkish policy plans, so markets fell.
For many investors, a bearish assault on the "generals" of the market was far more concerning. The bears have been tearing up "meme stocks", Cathy Wood stocks and all other types of high priced, no-gain stocks they might sell or short. However, this week traders came after the generals: Apple, Microsoft, Meta, Amazon, Google and even Tesla.
As company after company over the past quarter's earnings season has provided poor forecasts for sales and earnings, investors are wondering how long it will take the "generals" to add their voices to this growing chorus. Many investors don't wait to find out. The decline in the prices of these individual stocks has had a ripple effect on the market, as they represent such a large weighting in the overall investments of so many mutual funds and exchange-traded funds. As such, the lower they go, the higher the stock market goes.
I expected this kind of behavior, because without it there is no hope that we can find a bottom in the stock market. The problem is that this selling is only just beginning for many of these stocks. Remember that in many cases the most speculative stocks are down as much as 80% in some cases from their highs.
Generals are far from this kind of decline. Do I think we'll see the price of Apple, for example, cut in half or more? Doubtful, but another 10-15% could be a real possibility. This is important, because Apple represents about 7% of the S&P 500 index and 13% of the NASDAQ index.
Like I said, I expect a relief bounce this week. This is just another bear market bounce, one of many we can expect as markets look for a bottom. Readers may ask where do I see this background? This week we briefly hit my 20% target on the S&P 500 at 3,858. The NASDAQ hit my targets a few weeks ago and suffered further declines.
I think we will have to retest this level of 3,858 on the level of the S&P 500 index. If this holds, I could be sure that we have reached an intermediate low which could last until September. That said, May, I believe, is the month for good business as we continue to dip and bounce in this "W" formation. Hopefully by June we can see a better market with some hope of setting up a series of higher highs for about two months.